Laser eye surgery has come a long way since it was first introduced in the UK in 1990. These days, laser eye surgery makes up around 75% of all surgical procedures carried out in the UK. The technology behind laser eye surgery is constantly being developed and improved to make it even better, safer and more affordable.
Given the sheer number of laser eye surgery providers in the country today, the question of which surgeon and clinic to go to can be really daunting but doing your research is really essential to making the right choice. The guide below will hopefully help you determine if  laser eye surgery is right for you and which are the best clinics if you decide to take  the plunge and part with your hard earned cash.
Will Laser Eye Surgery Work For Me?
If you have the eye conditions below and are tired of wearing glasses or contact lenses then laser eye surgery is well worth considering: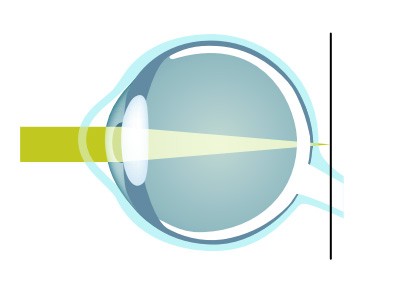 Presbyopia occurs naturally during the ageing process, presbyopia is a type of farsightedness. It's caused as the lens hardens and loses some of its elasticity, meaning it cannot focus the light on the retina correctly when looking at close-up objects.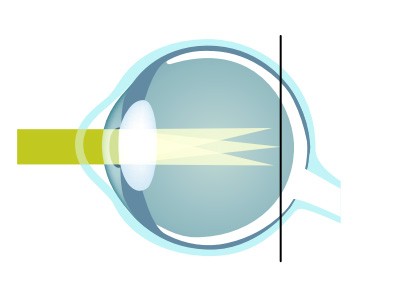 Astigmatism is another common but minor eye condition, astigmatism causes distorted or blurred vision. It arises when the lens or cornea is an irregular shaped (i.e. less like a football and more like a rugby ball). The majority of glasses wearers will have a certain degree of astigmatism.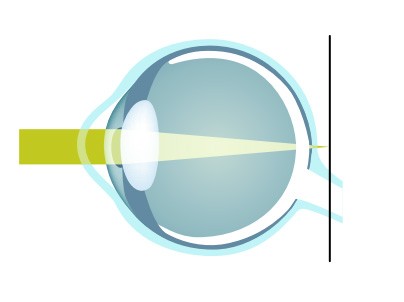 Hyperopia (also known as long sightedness), is the opposite to myopia whereby people can see objects in the distance clearly but will often find that items in the near distance are blurry and fuzzy.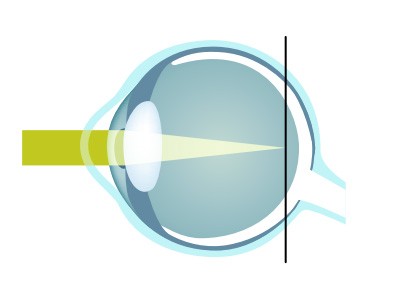 Myopia (also known as short sightedness), whereby you are able to see nearby objects to a higher level of clarity, but distant objects appear blurred.
Before going under the excimer laser, your optometrist will discuss the best treatments available for your particular prescription. If you suffer from astigmatism, LASIK is a very effective treatment but if you have thin corneas, or have some scarring on your cornea, you will not be eligible for LASIK and LASEK will be a better option. It will also be worth your time to look into the more effective Wavefront variations of both LASIK and LASEK which is a customised treatment that accurately maps the contours of the eye and can help people with severe astigmatism.
Am I Eligible for Laser Eye Surgery?
Even though you'll go through a selection process when finding your surgeon, you'll also go through one, too, to make sure you're an eligible candidate for laser eye surgery. Below we've put together some of the main criteria for those who are/aren't suitable for these procedures:
What Is The Best Laser Eye Surgery Clinic Near Me?
Now it's time to consider the clinics and the all-important prices. We would recommend using our comparison form to get current prices from reputable clinics in your area. To compare local clinic prices enter your postcode in the form on this page.
If you compare laser eye surgery prices published on the clinic's own website make sure you check if the advertised prices are fixed for all patients or dependent on prescriptions. If the price starts with 'From', it is a teaser rate and likely will only to be available to a small percentage of patients with low prescriptions. Also, make sure you are comparing like for like in terms of the treatments offered (different clinics will use different names for the same treatment).
Only Trust Impartial Reviews of Laser Eye Surgery Clinics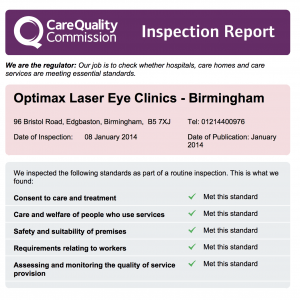 Read impartial reviews from people who have had the same laser eye treatment in the clinic you are considering using. It's best to use independent review sites like Trustpilot rather than read testimonials and celebrity endorsements on the clinic's own website, as these will have been selected to present the best possible impression. The inspection reports published on the
Quality Care Commission
site are also very good and worth reading – they go into depth about their findings and publish inspection reports for individual laser eye surgery clinics around the UK.
Do take care to consider factors that will have affected the previous patients' reviews and don't be put off straight away if you find a small number of negative reviews. Some patients give negative reviews because they experienced complications that may not have been avoidable no matter what clinic they used. Surgery results will depend not just on how good the surgeon is, but also on the patient's sight problem and prescription, as well as the type of procedure used.
What Type Of Treatment Should I Have?
PRK (photorefractive keratectomy): This form of eye correction was widely used since the early 1980s, but since the introduction of LASIK and LASEK, it's now widely used in the correction of low prescriptions. Reshaping of the cornea is done without eliminating a flap of tissue using the excimer laser.
LASIK (laser in situ keratomileusis): This is the most common form of laser eye surgery procedure. LASIK is used to correct both short and long-sightedness. However, for people who require higher prescriptions it may not be the best form of treatment. LASIK is done by the surgeon cutting across the cornea and subsequently raising a flap of tissue. The excimer laser is then used to reshape the exposed surface and the flap is replaced (see illustration below).
LASEK (laser epithelial keratomileusis): This form of treatment is closely related to PRK, with the only difference being that the surface layer (epithelium) of the cornea is not removed, but rather retained as a flap. Retaining the flap is considered to prevent any complications while at the same time speeding up healing.
Wavefront-Guided LASIK and LASEK: Rather than a one size fits all treatment, this is is a tailor-made form of laser eye surgery where treatment is customised to a patient's particular eye shape and prescription through the use of computerised 3D imaging technology.
ReLEx SMILE (Small Incision Lenticule Extraction): This is a new, minimally-invasive laser eye treatment which offers a great offering a great alternative to LASEK and LASIK treatment. Rather than creating a flap in the cornea for the laser, this procedure involves making a small hole in the cornea using a state of the art laser that places a series of pulses in the centre of the cornea. which will heal on its own afterwards. Although it is more expensive than the other techniques, very good results have been achieved using this method. This technique allows surgeons to treat patients with even higher prescriptions than previously deemed possible. The procedure is even suitable for many patients with thinner corneas, drier eyes, or contact lens intolerance.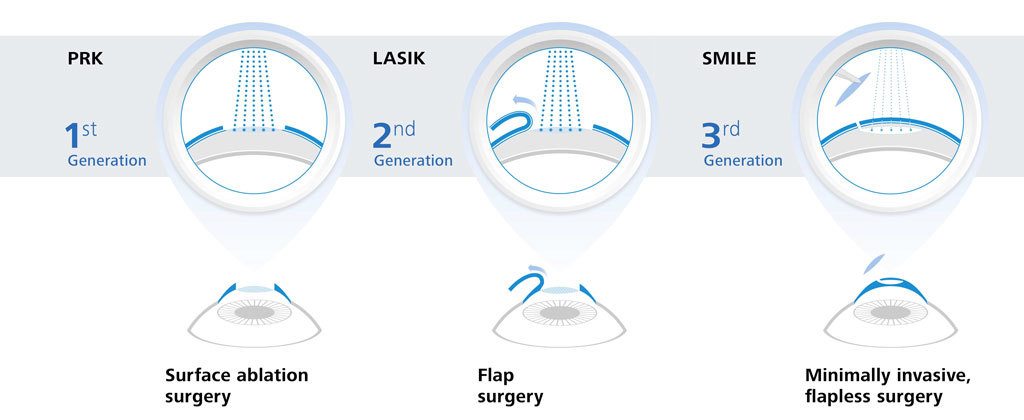 How Much is Laser Eye Surgery?
The 
costs of laser eye surgery
 can vary dramatically depending on the treatment you have and the clinic you use, but to help give you an idea, here's a table which demonstrates some of the potential costs involved:
| Treatment Type (Prices are per eye) | From | To |
| --- | --- | --- |
| | | |
| | | |
| | | |
| | | |
| | | |
Who Are The Best Laser Eye Surgeons?
The UK has quite an impressive number of surgeons with great credentials and extensive experience in laser eye procedures. As long as you do your research you should be able to find a highly professional laser eye surgeon in good clinic which will provide you with the treatment and aftercare that you require. Here are a sample of some of the best laser eye surgeons in the UK today which you can read more about in our surgeon section here:
Key Questions To Get Answered At Your Free Consultation
Once you have your list of promising providers, book a free consultation. This is your chance to find out about the clinic's premises, staff, equipment and, of course, the surgeon who will be allocated to you. Be open with the consultant about any worries you might have about the procedure, your recovery and the results. Prepare a list of questions to ask the consultant that will help you decide whether they're the right one for your or not. Once you have the information you need, you can now trim your list of clinics to one or two. Below are some questions you could ask:
How many procedures similar to mine have you carried out? (According to the Royal College of Ophthalmologists, a good laser eye surgeon performs at least 500 procedures a year.)
What is your clinic's success rate?
What is its complication rate?
What kind of aftercare will I receive?
Is that incorporated in the price?
What happens if complications occur?
What if my problem is over- or under-corrected?
Will the clinic do a corrective surgery for free?
Are you entitled to a refund if you change your mind after booking the surgery?
What will happen during the procedure?
How long will the results of your operation last for?
Is it likely you'll need more surgery in the future?
Will you need to wear your glasses after the surgery? If so, what for?
What potential complications could arise during or after the surgery? How have they corrected these in the past?
How long will it take for you to recover?
What will you/won't you be able to do after the surgery?
Finally, always make sure you've got the contact details of your surgeon or someone who can help you after your surgery if there is a problem.
Private Clinics in the UK vs. NHS Laser Eye Treatment
If you decide you want laser eye surgery in the UK you will then need to decide on whether you want to use a private clinic or an NHS supported facility if you are eligible.  However, not everyone qualifies for laser eye surgery on the NHS.
Under the NHS provisions, not all of these conditions (myopia, hyperopia, astigmatism and diabetic retinopathy) can be treated. The NHS only allows for treatment of eye conditions, which if left untreated, can result in loss of vision and even blindness. Therefore, only diabetic retinopathy is considered to result in loss of vision, while myopia, hyperopia and astigmatism can be successfully treated by other options such as wearing eye glasses or contact lenses.
Therefore, laser eye surgery is rarely available on the NHS, although some NHS trusts operate laser eye surgery clinics that charge a fee. This makes private clinics the only option for anyone seeking to have laser eye surgery to correct refractive errors that are not covered by NHS.
What Are the Alternatives to Laser Eye Surgery?
Not a primary candidate for laser eye surgery, or want to weigh up your options? Then there are some alternatives available:
Lens Surgery
When you're looking for permanent vision correction, you may find lens implants a more suitable solution. Evolving from cataract surgery, these state-of-the-art procedures include refractive lens exchange (RLE) and phakic intraocular lenses (PIOLs).
In essence, PIOLs are like having permanent contact lenses placed in your eyes because the natural lens isn't removed beforehand. It also eliminates many of the restrictions faced with contact lenses as this lens is inside your eye. This type of surgery is often recommended for younger patients who have a high degree of astigmatism, aren't suitable for laser eye surgery or have a high eye prescription.
In contrast, RLE is often better for older people who aren't suitable for laser eye surgery, have a high eye prescription or are suffering from the start of cataracts. This procedure is the same as cataract surgery as the natural lens is removed before a monofocal or multifocal lens is put in its place.
Persisting with Glasses or Contact Lenses
Sometimes, patients will choose to continue using contact lenses or glasses instead of undergoing surgery. You will just need to weigh up the pros (i.e. being relatively risk-free) and cons (i.e. the restrictions you face) of these to see which avenue is right for you.
What Are the Possible Risks of Laser Eye Surgery?
When deciding whether or not laser eye surgery is right for you, it's important to consider the risks involved, which include:
Glare, halos and double vision. Most common at night, these symptoms do tend to disappear within a few days.
Dry eyes. For up to six months after your operation you may experience dry, gritty sensations in your eyes, which can affect the quality of your vision. Eye drops often help ease these symptoms, though.
Undercorrection or overcorrection. Sometimes, not enough or too much tissue is removed which may mean you need further surgery. The latter is harder to rectify due to the amount of tissue that's already been removed.
Astigmatism. This occurs when tissue is removed unevenly and glasses, contact lenses or more surgery may be required.
Changes to or loss of vision. In extremely rare cases, vision loss can arise due to a complication in surgery. Some patients also find they can't see as sharply or clearly as they did before the procedure.
What Are the Possible Side Effects of Laser Surgery?
It's common to experience some of the following side effects after your procedure but these will often disappear with time:
Vision changes. These include starbursts, glare, ghost images and halos. These are more common if you had a high prescription but should disappear within a few months.
Eye blurring and/or discomfort. As well as the dry sensation mentioned previously, some patients may find their eyes blur intermittently. Again, this should rectify itself within a few months.
Infection. Although rare, you are at risk of infection post-surgery, particularly if you've had a surface ablation (e.g. PRK).
Appearance. Red blotches can appear in the whites of your eyes and are caused by small blood leaks, but these aren't harmful and don't affect your eyes' health. They should disappear within six weeks
How to Reduce Potential Side Effects and Problems
To make sure you lower your risk of suffering from any of the aforementioned side effects or risks, there are a number of things you can do during or after your surgery.
Firstly, it's important to remain relaxed throughout your procedure, focusing on the light above your head so the surgeon can accurately use the laser. However, don't worry if your eyes do move, as the lasers are designed to track these eye movements.
You should also use the eye drops provided to you by your surgeon as these will help keep your eyes lubricated (avoiding dry eyes), while also preventing inflammation and infection. Follow your surgeon's advice on what you can/can't do for the weeks/months following your surgery, too. E.g. LASIK patients aren't able to play contact sports for a month after their surgery.
Finally, always attend your follow-up appointments to make sure your eyes are healing correctly, and contact your surgeon immediately if you have any concerns (e.g. blurring, increased pain, light sensitivity or an injury to your eye).
Getting Laser Eye Surgery Abroad
Sometimes, there are cheaper surgery options available when you go abroad, but these low-cost procedures often come with added risks. So, if you're considering venturing abroad for your surgery, bear the following in mind:
Copyright © Laser Eye Surgery Hub 2019