Page Sections (click to expand)
Laser eye surgery is now considered a common procedure with about 100,000 people undergoing some variation of the treatment in the UK each year. Nevertheless, the concept of undergoing laser surgery to correct vision problems can still be a bit of a mystery and concern to many, especially as it was once deemed risky and expensive.
If you're looking into the possibility of undergoing laser eye surgery, chances are, the cost is one of your main concerns. Some patients find the wide range of advertised prices quite confusing, with some clinics claiming to charge as little as £595 for a treatment (per eye) and other clinics charging over £5,000. We will try and give some clarity on the typical costs of laser eye surgery and the types of treatments available. If you are interested you can also quickly compare prices of laser eye surgery near you by entering your postcode in the short form on this page.
The Typical Cost of Laser Eye Surgery
The cost of laser eye surgery varies according to a set of factors, foremost of which is the type of procedure. The average price ranges for the most common procedures are as follows:
| Treatment Type (Prices are per eye) | From | To |
| --- | --- | --- |
| LASEK / PRK | £1,195 | £1,795 |
| LASIK | £1,195 | £2,700 |
| LASEK (Wavefront) | £1,495 | £2,450 |
| LASIK (Wavefront) | £1,695 | £3,250 |
| ReLex SMILE | £2,495 | £3,250 |
Prices accurate as of March 2019
Please be aware that the lowest price for each laser eye surgery type in the table may be higher than some of the advertised rates you have seen elsewhere. This is because those promotional rates are typically only available to a minority of patients with low prescriptions. It is more realistic that you expect to pay prices similar within the range above rather than think you will get something closer to the 'From £X' prices often quoted online.
There is so much variability in costs due to the factors explained below that it is worth getting 2 or 3 quotes from respected clinics near you which we can do for you if you fill in the form on the right of this page.
Finance Available
All clinics will offer some sort of financing for their laser eye surgery treatments to make it more affordable. Many will offer 0% finance over 10-12 months and if you would like to pay off the balance over a longer period in order to reduce the monthly payments you should expect to pay a deposit upfront and be charged between 10%-12% APR.
Always check the total amount you are repaying if you are getting finance – the low monthly repayments are attractive but you can end up paying more than a third more than the amount owed due to the interest rate. Below are a sample of finance deals available for the different treatment types.
| Treatment Type (Prices are per eye) | Deposit | 10 Months | 24 Months |
| --- | --- | --- | --- |
| LASIK | 10% or £500 | £70 (0% APR) | £23 (11.5% APR) |
| LASEK (Wavefront) | 10% or £500 | £153 (0% APR) | £50 (11.5% APR) |
| LASIK (Wavefront) | 10% or £500 | £153 (0% APR) | £33 (11.5% APR) |
| ReLex SMILE | 10% or £500 | £188 (0% APR) | £94 (9.9% APR) |
What Influences the Price of Laser Eye Surgery?
There are a number of additional factors that may influence the price you pay for laser eye surgery, including:
Technology: If a clinic can offer the best state-of-the-art technology you can expect to pay more for these treatments.
Type Of Procedure: Non-standard procedures such is the minimally invasive bladeless ReLEx SMILE are more expensive than standard ones.
Prescription: Some clinics ask for higher payments from patients with higher prescriptions. If a clinic lists their prices "From" a certain price they are very likely to vary by prescription. The Royal College of Ophthalmologists have stated in their 2016 advertising guidelines that any price advertised by clinics should be available to over 50% of patients. This is designed to stop clinics advertising very low prices that only a fraction of patients qualify for due to their prescription but unfortunately this seems to continue.
Location: Often those clinics located in London will have higher fees due to the higher costs they incur (e.g. staff and rent).
Aftercare: Some clinics are able to cut their costs by charging patients separately for their aftercare (this is something you'll need to look out for when calculating the costs involved as it won't be included in their headline price).
Company Size: Clinics with branches across the UK

benefit from economies of scale and can often charge lower prices. Clinic's with just one or two experienced surgeons will tend to be more expensive.

Patient Care: When a clinic has an optometrist or optician carry out the initial assessments, this can reduce the costs compared to the surgeon doing this themselves. However, this doesn't allow you to meet the surgeon and build a relationship with them prior to your surgery, which may make you feel less comfortable with the procedure.
Special Offers: Prices can come down significantly if a clinic is running a promotion on certain procedures or is price-matching a competitor. However, the advertising guidelines for refractive surgery published by the Royal College of Ophthalmologists have stated that clinics should not be using time limited deals, financial inducements, 'buy one get one free deals' or offering surgery as competition prizes.
An Overview of Laser Eye Surgery Treatment Types
The first thing to understand is that there are different kinds of laser eye surgical procedures, depending on the problem that needs to be corrected and the patient's prescription. Let's take a quick look at the most popular procedures:
| Type of Procedure | What Is It? | Who Is It For? |
| --- | --- | --- |
| PRK (Photorefractive Keratoctomy) | This is the oldest type of laser eye treatment and involves the removal of the epithelium in order to access the cornea. The cornea is reshaped with laser and the patient will then have to wear a protective lens during the recovery period. | This is rarely used these days, but is a good alternative to LASIK and LASEK for people with very thin corneas who would otherwise not be considered as candidates for laser eye treatment. |
| LASIK (Laser-assisted in situ keratomileusis) | This is the most common type of laser treatment and is relatively painless. It involves creating a flap in the cornea, peeling it back to expose the stromal layer. The cornea is then reshaped with a laser beam and the flap is replaced afterwards. | This procedure is suitable for people with common sight problems, such as nearsightedness, farsightedness and astigmatism. |
| LASEK (Laser-assisted epithelial keratomileusis) | In this procedure, the epithelium (the thin layer of cells that cover the cornea) is peeled back, exposing the Bowman's layer. This is then reshaped with a laser beam and the epithelium is replaced. | This treatment is the most viable option for patients with thin corneas, and is a good alternative to LASIK surgery. |
| Wavefront | Wavefront is a type of technology utilised in LASIK and LASEK procedures. Special software creates a map of the patient's eye to give an accurate picture of the aberrations to be corrected. The map is then loaded into the computer that controls the laser to let it reshape the cornea exactly to the patient's specific requirements. | This customised treatment is designed to be an alternative to standard LASIK and LASEK procedures. This is perfect for people who rely on perfect vision for their jobs, such as airline pilots. |
| SMILE (Small Incision Lenticule Extraction) | This is a new, minimally-invasive laser eye treatment which offers a great alternative to LASEK and LASIK treatment. Rather than creating a flap in the cornea for the laser, this procedure involves making a small hole in the cornea using a state of the art laser that places a series of pulses in the centre of the cornea. | It is generally used for correcting higher degrees of myopia with or without astigmatism. More people are suitable for this treatment than for LASEK and LASIK treatment. |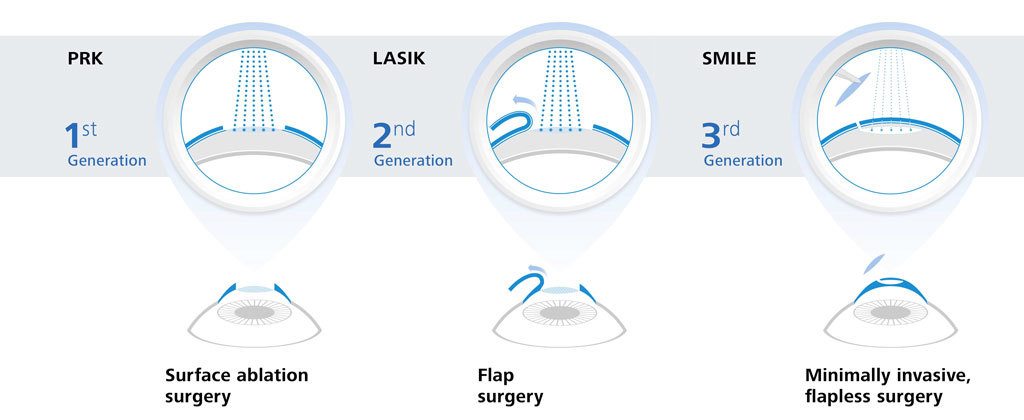 Why Should You Avoid the Cheapest Laser Eye Surgery?
It's tempting to opt for a clinic offering the cheapest prices for laser eye surgery, but are these savings worth the cost of your eyesight?
Ensuring you're being operated on by a fully-qualified surgeon in a renowned clinic is the safest way to make sure your surgery is high quality, safe and effective. If you want to find cheap laser eye surgery, the best way of doing this is by visiting a specialist clinic that uses older technology or is located within a highly competitive area.
Don't forget – some clinics will offer cheaper procedures but these are often limited by the treatment required and the prescription of the patient.
Will There Be Any Hidden Costs?
Unfortunately, hidden costs are something you'll need to look out for because some charges are often omitted from the advertised price. For example, you may need to pay extra for your initial consultation (up to £175), enhanced treatments (e.g. IntraLase and Wavefront which help reduce the risk of complications and improve results), prescription drugs and aftercare. The latter may only be provided for a certain amount of time, after which your follow-up appointments may come at a charge of around £50 to £150, depending on who you're meeting.
That's why it's crucial you find out exactly what costs are included in your treatment, because if not, you could end up paying a lot more than you originally thought.
Why Do Some Clinics Have a Flat Fee?
To help remove many of the complications involved in the hidden charges mentioned above, some clinics will provide a flat fee. This ensures patients know exactly where they are with their costs from the offset and won't be hit with any nasty surprises further down the line. These flat fees often include eye tests, consultations, medication and aftercare, helping you budget for your laser eye surgery with far greater ease.
Will I Have to Pay for Aftercare?
As mentioned previously, some clinics will charge for aftercare, perhaps limiting the number of appointments that are included in your surgery price. After this limited period, you may be paying up to £150 per appointment – the price of which will depend on whether you're meeting an ophthalmologist or optometrist. Furthermore, the medication you need after your surgery (e.g. anti-inflammatory eye drops), may also come at an additional cost.
Is It Worth Going Abroad for Laser Eye Surgery?
Due to some countries offering cheaper surgery costs than the UK, many people will consider venturing abroad to have their laser eye surgery conducted. However, even though the prices may be more appealing, it's important to consider the cost of your accommodation and tickets, too. Once added up (especially if you need to return at a later date for your follow-up appointments), these can be significantly more expensive than procedures in the UK.
Furthermore, with potential language barriers and less rigorous quality checks in place, this can make the surgery far riskier. And, once you return to the UK, getting the right aftercare can be problematic.
Can I Get Laser Eye Surgery for Free on the NHS?
The NHS does offer free laser eye surgery but only for serious eye conditions that may lead to vision loss if they aren't treated. It's not available for conditions that will be successfully treated through the use of contact lenses or glasses, e.g. hyperopia (farsightedness), myopia (nearsightedness) and astigmatism.
Eye conditions that are covered by the NHS for laser eye surgery include diabetic retinopathy (when blood vessels in the retina are damaged), some types of wet macular degeneration, thickening of the lens capsule which arises after cataract surgery and some specific corneal diseases, e.g. corneal erosions.
Final Things to Think About
Cost is an important element in your decision-making process but should not be your main consideration when choosing a laser eye surgeon and/or clinic. When choosing a clinic, look for one that has a high success rate and a reputation for providing patients with the best possible care. Make sure that your surgeon meets the standards set by the Royal College of Ophthalmologists for laser eye surgeons. Many good clinics will have financing options allowing you to pay for the surgery over several months so you don't need to go with the cheapest.
It will be very wise to refrain from going to the first clinic that offers you an unbelievably low rate. Most of the time, the advertised fee doesn't include other costs such as screening tests, eye exams, post-op medication and aftercare appointments. Always be aware of hidden costs.
Good research is essential to help you make the right decision. After all, laser eye surgery is a life-altering procedure. It requires a lot of serious thought to make sure you will have no regrets afterwards.